AVOIDANCE

OF AIR POLLUTION BY ECS - TECHNOLOGY




Conservation of the complete environment - air, water and soil - has become very important worldwide.


Alarming natural disasters,- increasing in frequency and intensity,- the hole in the ozone layer,- hitherto unknown kinds of illness clearly point to the continuous escalation of overstraining of the environment. Consequences of technical and human errors demand urgent preventive measures against all kinds of pollutions. The time is pressing. We must combate ecocides,- whether moderate or extreme, resolutely.


An industrialist and manager in charge nowadays has to face a challange. Not only are the production units entrusted to his care but also and most importantly his employees who are at risk at work due to respirable dust, toxic and cancerogenic substances, smog, water etc.


Any management decision must be based on the overall success of the company. The amount and application of capital expenditures must be made to best ensure this success. Anti-pollution investments normally, however, are controlled by environmental standards required by governments. This results in cost increases without any return for investment. Therefore, it is imperative that these pollution control investments be held to an absolute minimum.


The following parameters stipulate conditions for anti-pollution investments:


- low investment cost


- low consumption of energy and consumables


- minimal expenditure for maintenance and spares


- avoidance of additional cost for disposal of residuals and waste


Air pollution control technology offers various methods - in general, removing contaminations that have already come into being.


State of the art technology in air pollution control eliminates emissions before they arise. Avoidance of emissions at reasonable prices eliminates expensive costly disposal of emissions.


Carefully considering the clean air requirements - the pros and cons of various methods and their cost - a lot of companies around the world have decided on a dust suppression system type "ECS" by LINGENBERG - a method meeting the above requirements.


"ECS" - ENVIRONMENT CONTROL SYSTEMS - have been installed in the processing lines of more than 60 different bulk materials. Minerals, ores, sulfure, bauxite, silica, fertilizers, blendings of ore, coal and aggregates, clinker, lignite, pit coal, crushed stones as well as stone chips etc. All installations are operating successfully and reliable in combating the roots of emissions - saving the disproportionate higher cost for elimination of immissions. ECS - equipment is applied to production lines where other systems are not practicable as:


| | |
| --- | --- |
| - | dusty material free falling from high elevation discharge points i.e. stackers or other |
| | conveyors to stock piles |
| | |
| - | truck dumping, wagon dumping, |
| | |
| - | grab dumping outflow and many others. |
| | |
Technology and process of the dust suppression system type "ECS" is described in the following.


| | |
| --- | --- |
| WITHOUT ECS | WITH ECS |
| | |
| | | | |
| --- | --- | --- | --- |
| CLIENT: | GULF CEMENT COMPANY | KIND OF MATERIAL: | BAUXITE |
| | RAS AL KHAIMAH | SIEVE FRACTION: | 0 - 25 mm |
| | UNITED ARAB EMIRATES | HANDLING RATE: | 350 to. |
| | | | |
IMPORTANT REMARK AHEAD:


ECS functions in a pressure range up to 12 bars (1,2 MPa)


Processes which use high pressure or compressed air pose a considerable health risk as they produce aerosols which are inhalable not only into the bronchial tubes but also into the finest alveolae where they can cause serious disease. This is not the case with the ECS process that uses low pressure.


The Standard EN 481 of the EUROPEAN UNION ( identical with ISO-CD 7708 and US-ACGIH) provides detailed information on this topic.


Since these STANDARDS were published and became binding our company has


cancelled the production of high pressure systems and particularly those operated


with compressed air which inevitably produce aerosols.

We have available a brochure dealing in detail with the above problem and we will


be pleased to send it on request.
Well known technologies of air pollution control are air cleaning systems - aiming for the removal of immissions which arose previously. By means of these processes the dust loaded air is sucked in and conveyed to more or less extensive filters where the dust is separated from the carrier air. In addition to the generally high cost of operation and maintenance of these dedusting plants further expenses are caused by the removal and dumping of not usable residuals.

Also the application of this type of dedusting equipment is limited by its extensive measurements and the unavoidable required housings around the points of emissions. The quality of these housings does not only essentially determine the efficiency of the complete system,- in processing and loading plants the housings themselves hamper observation, maintenance and repairing of machines like crushers, screens, transloading points of conveyor belts etc.


Taking all these points into account the dedusting systems are completed and/or substituted by the technology of the dust suppression system "ECS" characterized by


| | |
| --- | --- |
| ... | avoidance of emissions |
| | |
| ... | avoidance of removal of residuals |
| | |
| ... | applicable at all types of emission points in the technology of processing plants, materials |
| | handling plants, loading- and unloading facilities etc. |
| | |
| ... | smallest measurement of required building space |
| | |
| ... | minimal consumption of energy and required use of input matters |
| | |
| ... | minimal operating cost |
| | |
| ... | and - if necessary - fully winterized. |
| | |
Dust, contained in materials to be conveyed - emits if


| | |
| --- | --- |
| - | the speed or direction of a mass stream changes |
| | |
| - | the surface of the material to be processed is increased by crushing or friction |
| | |
| - | and/or the natural humidity of the material is reduced, caused i.e. by changing weather conditions or |
| | by production processes. |
| | |
Air polluting solid particles are described as dust. Due to the physical nature two main kinds of particles are distinguishable: floating dust and coarse dust = sediment dust.


In the scope of this essay dust shall be defined exclusively related to the geometrical measurements: dust is floating solid matter up to 500 µm. The assesment of dust subject matters is not relevant in this correlation because there is no influence on the dust suppression technology.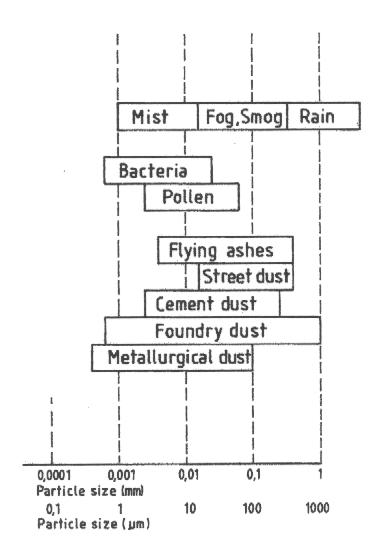 Included however are all particles smaller than 63 µm and especially the respirable fines which are considered dangerous. Numerous materials are classified as extremely dangerous:
- biologically active substances,- toxic materials and in particular cancerogenic materials.

Permitted mass concentration - indicated in mg/m³ - in the air depends on the kind of material and on its hazardousness in grades up to max. 50 mg.


Coarse dust in general is easy to control. Because of the sufficient high mass the particles are not able to float in the air. Such particles fall down immediately close to the point of emission - mainly back into the mass stream of materials to be handled.



It is well known that the surface of particles increases considerably in relation to the volume and consequently also to the mass with the increasing degree of crushing. This effect generates the dust clouds around the separate processing steps - getting tighter and gaining in mass concentration the more the processing continues.


"ECS" encloses the particles of fine dust at the moment of emission in a small shell of a specially prepared mixture of water and surfactant. This process increases the mass of each particle and eliminates its ability to float in the air, therefore, the higher mass particle settles down into the material being conveyed in same way as coarse dust. This physical process of dust suppression prevents emissions - in particular diffuse emitting particles are trapped and brought down into the material to be conveyed. This method saves the cost for disposal of large quantities of not usable residuals.



The realisation of "ECS" dust suppression exists in a process of atomizing the above mentioned mixture in a very fine mist onto materials that generate dust at the points of emission. An outstanding characteristic of this system is the extremely low consumption of mixture depending on the kind of material the consumption is from 0,05 % to 0,3 % of the materials handling rate.


Some material require - depending on the granularity - up to 1,5 %.



| | |
| --- | --- |
| WITHOUT ECS | WITH ECS |
| | |
| | | | |
| --- | --- | --- | --- |
| CLIENT: | VOGELSBERGER HARTSTEIN-INDUSTRIE | KIND OF MATERIAL: | BASALT |
| | BÜDINGEN | SIEVE FRACTION: | 0 - 2 mm |
| | GERMANY | HANDLING RATE: | 350 to / h |
| | | | |
The most important fact in this process is the optimal balance between dust mass concentration and required quantity of mixture determined by spectrum of droplets diameter, pressure of mixture and volume. This optimization is typical for "ECS" - mud and sludge do not stop up the inside of chutes, the screens, crushers, conveyors etc.

The dreaded V.S.R effect (Vast Sludge Residual effect), well known to other systems does not occur with ""ECS".


This effect can be described as follows:


The fog sprayed into the chute etc. spreads out


uncontrolled.



Only a small portion of this fog comes into contact with the dust and settles down into the material being conveyed. The much bigger remainder dampens the inner surface of the chutes, parts of the construction etc.



Untrapped dust which comes in contact with this wet surface adheres and - within very short time - develops into a considerable accumulation of sludge.





At some point this accumulation of sludge will become so large and heavy that it breaks off under its own weight.



It falls onto the conveyor belt and is mixed in with


the material to be conveyed.



The considerable disadvantages of the presence of such a large amount of - wet - sludge on the conveyor belt are obvious:



... reduction in quality of any material coming in contact with this sludge can be so great that the said material is no longer usable



... if this material is fed into crushers or onto screens it may lead to cloggings. Shut-off times for cleaning add up to extra operating and maintenance cost.





... the constant damping leads to increasing corrosion.



All the listed disadvantages do not occur with systems without housings / encapsulations etc.
Experiment and experience show that spraying dust with water shows no considerable success in terms of dust suppression. Hard water forms droplets running down over the surface of a dust stockpile and turns to mud around the pilebase. This result of course is not unexpected,- the cohesive power of the engaged substances dust and water are considerably higher than the adhesive force. Therefore it is impossible to bring water and dust into a tight and durable bond. The high surface tension of the water means that contacts between dust and water are of short duration and detach immediately where impact and/or vibration occurs.


Increasing the mass of particles for a sufficiently long run requires the modification of the interfacial characteristic of at least one of the engaged substances. Only water can be modified. Its wetting ability must be increased by considerable reduction of its interfacial tension.


This results in the decrease of the cohesive power of water and effects the desired shell of dust particles.


Also based on this significant modification of the wetting ability is the minimization of the required quantity of mixture from water and surfactant for the suppression of enormous quantities of dust.


The concentration of dust in the air is definable in mg dust per m³ carrier air. The described dust suppression system type ECS has identified the relation between mass concentration and required quantity of mixture depending on the kind of material, its granularity and the current handling rate.


The specific kind of dust and the proportions of fine and coarse dust per m³ of carrier air build the parameter for the determination of required quantity of droplets and also for the mass of the individual droplet applied to each point of dust emission.


As stated above the efficiency of ECS depends on the greatest possible balance between the number of dust particles and the adequate number of water droplets.


Furthermore the size spectra of the water droplets and the dust particles should comply - in which the water mist must not turn into aerosols - !


The more these parameters are in balance the greater the efficiency.


Knowledge of the particle size distribution of the material considered is essential for the project work for an ECS.

| | |
| --- | --- |
| WITHOUT ECS | WITH ECS |
| | |
| | | | |
| --- | --- | --- | --- |
| CLIENT: | GHACEM | KIND OF MATERIAL: | CLINKER |
| | TAKORADI | GRAB CAPACITY: | 10 to. |
| | GHANA / WEST AFRICA | | |
| | | | |
The efficiency of dust combating systems (dust suppression systems as well as suction type systems) depends on the amount of fines in the material considered. Therefore it is most important for us to know the proportions in the range from 0,009 mm to 0,50 mm.


Besides the described optimal balance between the number of dust particles and the number of bound droplets an essential contribution to the max. result in dust suppression is effected by the optimized velocity of the droplets. The speed - on the one hand - must be high enough to overcome the air resistance,- but on the other hand must limit the kinetic energy below a value where the dust particles will be displaced by the droplets without coming into contact with each other.


Control and adjustment of the optimal speed is exclusively possible in the range of low pressure and by use of droplets of which the mass is high enough to withstand the air resistance. Aerosols can not be controlled because of their arbitrary spreading.


The described dust suppression system type ECS meets all the conditions described by the following components:



... A CENTRAL MIXING UNIT - CMU -


for preparing the mixture from raw water and surfactant.

This unit delivers the required volume of mixture depending on the operating status of the plant.

Because of alternating operating conditions this status changes continuously.

For example:

- start and stop of processing machines or conveyors belts

- discontinuous truck-, grab- or wagon dumping

- intermittent operating characteristics of loading and unloading processes

- use of "ECS" subportion controlling system

Measuring and controlling instruments of CMU are of advanced technology.

Magnetic inductive impulse turbines generate precise commands to the dosing system-

guaranteeing the lowest consumption of resources such as water, surfactant and energy - a further "ECS" contribution to conservation.

CENTRAL MIXING UNIT INCL. SWITCH BOARD
... A PLC CONTROL SYSTEM


regulating the functions of the CMU itself and generating the commands for "opening/closing"

circuits of the solenoid valves which are located at the different mixture spraying points in the

plant. This control circuit assures that mixture will be sprayed only if the

"machines are running and material to be conveyed is present"!

The spraying process stops immediately unless both of these conditions exist.




... AN INTEGRATED "ECS" - SUBPORTION SYSTEM


allowing the adjustment of the spraying volume for different operating conditions such

| | |
| --- | --- |
| as | changing mass flow |
| | changing weather conditions |
| | different emissions density |
| | different kind of material to be handled etc. |
| | |
The "ECS" subportion system is available both hand operated and automatically controlled. The

automatically controlled systems are normally governed by input information generated by changing mass flow.

A special state of the art system extends the "ECS" automatic subportion control to information

| | |
| --- | --- |
| processing such as: | changing natural amount of materials moisture |
| | ambient temperature |
| | materials temperature |
| | windspeed |
| | intensity of sunshine and |
| | quantity of rain |
| | |
... A SET OF CONTROL DEVICES


to detect the motion of the machines and the presence of material as stated above.



... MIXTURE CONTROLLING UNITS OF DIFFERENT NUMBER AND MODEL

to control the flow of mixture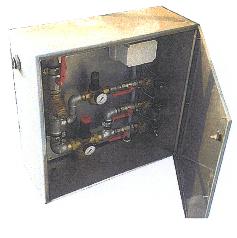 ... A DISTRIBUTING SYSTEM


for mixture, made from hoses or pipes to supply the prepared mixture from the CMU to the different spraying points and a distributing system for gate voltage, usually 220V AC.


... A FULL SET OF SPRAYING MANIFOLDS


to be fitted at the spraying points. These manifolds carry a differing number of spray nozzles which are adjusted very carefully to the required spraying volume at each point. If desired further "ECS" high tech equipment can be installed in the manifolds: the "ECS - FLOW CONSTANTORS" assure a constant mixture volume at each point with an accuracy of +/- 0,5 % of the the adjusted value - independent of changing pressure proportions in the distributing system.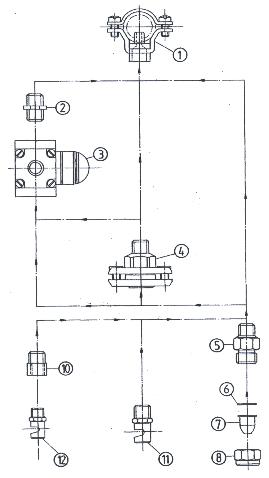 ... "ECS" STANDARD ASSEMBLING MATERIAL


including hose- and pipe clamps - TYPE SIKLA - and fasteners TYPE RADBAND.

This material provides rapid and problem-free assembling.

Cable brackets, hose or pipe consoles or other specific assembling material can also be delivered if needed.

... LOW TEMPERATURE ?

no problem. "ECS" can be fully winterized.


The additional equipment required consists of

| | |
| --- | --- |
| ... | a heating system for the hoses and pipes to avoid freezing during shut-off periods |
| | where mixture does not flow and |
| ... | a dosing system for an antifreeze compound. This will be dosed automatically and is |
| | extremely economical dependent on two actuating variables |
- the current temperature and

- the actual volume of mixture flow

This compound is essential to assure that the very fine droplets come into contact with the dust particles in the liquid phase before turning into ice. Certain companies literature claims that the smaller droplets are the less likely they are to freeze. This statement, of course, is not a scientific one and very misleading as it is only valid on condition that no cristallization nuclei are present. Since the air - particularly around a dust emitting area - is saturated with dust (being above nuclei) it is easy to recognize how fast blocks of ice arise around the areas concerned leading to serious damage and/or considerable shut-off times.

We have available a brochure dealing in detail with the above problem and we will be pleased to send it on request.



... A PROTECTIVE SYSTEM AGAINST NIP BY FROST


This shuts down "ECS" operation if temperature drops to zero °C or to minus X °C, if

"ECS" is fully winterized.



... TEGI MAINTENANCE PROGRAM


as an option we recommend our "ECS TEGI" program. TEGI is an integrated checking cycle which watches over the entire system.

Additional costs incurred are very low and the TEGI assures immediate fault diagnosis and location - providing

| | |
| --- | --- |
| - | cost saving and avoidance of shut-down periods by selective and |
| | preventive maintenance |
| - | savings on input materials by automatic checking of dosing |
| | equipment and mixture volume |
SURFACTANT


The extremely high efficiency of "ECS" when combating air pollution is due to our surface active agent "ECS 89". LINGENBERG ECS 89 was developed and is manufactured for our system to ensure efficient dust suppression and long and faultfree life of all "ECS" parts.

This agent meets the strictest conditions of groundwater protection, environmental protection and personal protection. It is not harmful to the environment or personnel.

ECS 89 is the only surfactant named specifically in the German standard VDI 2584.
Consumption of "ECS 89" is very low. The mixing ratio surfactant/water is 1 : 3750 to 1 : 5000
SUMMARY

| | |
| --- | --- |
| "ECS" | is a dust suppression system, |
| "ECS" | prevents emissions - diffuse emitted dust particles are trapped and dropped |
| | into the material being conveyed. |
| "ECS" | saves the cost of disposal of large quantities of dust which are collected by |
| | antiquated systems for fighting air pollution. |
| "ECS" | acts before pollutants must be eliminated by much higher cost systems. |
| | |
OUTSTANDING APPLICATIONS FOR


"ECS" is possible where other techniques are impossible - for example:


| | |
| --- | --- |
| - | dusty material free falling from high elevation discharge points |
| | i.e. stackers to stock piles etc. |
| - | truck dumping / wagon dumping |
| - | grab bucket outflow from shipunloaders etc. |
| - | discharge and transfer points, etc. etc. |
| | |
| | |
| --- | --- |
| "ECS" | eliminates high installation and maintenance cost by avoiding covers at |
| | spraying points. Accumulations of mud - well known and dreaded as |
| | VSR = Vast Sludge Residual effect -inside covers, chutes etc.caused by |
| | antiquated nebulizers can not develop. |
| | |
| --- | --- |
| WITHOUT ECS | WITH ECS |
| | |
| | | | |
| --- | --- | --- | --- |
| CLIENT: | BORAL GRANITE | KIND OF MATERIAL: | GRANITE |
| | KAMENZ | SIEVE FRACTION: | 0 - 5 mm |
| | GERMANY | HANDLING RATE: | 400 to. / h |
| | | | |
IS A CLEAN, DUSTFREE SURFACE OF THE FINAL PRODUCT

A DECIDING FACTOR ?


"ECS" is a dust suppression system - preventing emissions before they develop.
A special characteristic of this technology is to bind the dust particles in the mass flow of the conveyed material. This would seem to imply additional accumulation of dust on your product. However, any screening operation will remove more dust from an "ECS" processed material than from material treated by any other system.


This fact led our engineers to develop a grain cleaning process named


IKW - CONTRA CURRENT DUST REMOVER


a patented process that results in improvements of 80% to 95% in grain purity compared with conventional preparation technology.


We guarantee i.e. for granularity 0/5 mm:
reduction of particles < 90 µm from 15% - 25% to < 4% including < 3% of particles
< 63 µm.


Purity of material is a sales advantage. "ECS" can assist you in improving your prices and your share of the market.


If more information is desired - please contact us - we are ready to answer immediately.



"ECS" is the solution to many problems when combating air pollution:


innovative - low operating cost - low maintenance - extremely effective



"ECS" - DUST SUPPRESSION SYSTEM BY LINGENBERG

- complies with German clean air regulations TA - LUFT and

- specifically named as "ECS 89" in the German standard VDI 2584,


AN ECONOMICAL SOLUTION TO YOUR PROBLEM

| | |
| --- | --- |
| WITHOUT ECS | WITH ECS |
| | |
BAUXITE TRANSLOADING POINT